Planetary Combination for IAS and IPS in Birth Chart.  Everyone has their own dream and always works to fulfil their dream but they don't know whether their dream will fulfil or not. Astrology can help you succeed in your dream come true. IAS (Indian Administrative Service) is a very prestigious service in all aspects. Every year many students appear in the IAS exam but success remains too few. The question that arises is, Why some could make it to success and others despite hard work could not?  the answer lies within the astrological combinations one has.
Astrology and Astrologers are able to provide proper guidance with the help of your Horoscope / Kundali because planets and their placement in horoscope / kundali play a very important role in the result of one's success or failure in IAS or any other exams also.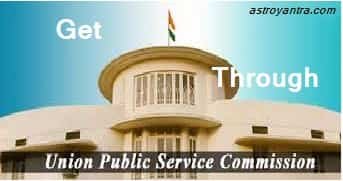 Here I am providing you with some astrological combinations in which you can see your horoscope if the combination is present in your horoscope then you should choose Administrative service and start preparing for that service. I assure you with success. Now open your horoscope and start to see a combination that is given by me is present or not
Responsible House / Bhav for IAS or IPS
First House
1st house denotes physical and mental aptitude and inclination toward the profession and other things.
Third House
The third house indicates courage and hard labour. The role of this house is very important because every success depends upon complete dedication and hard work.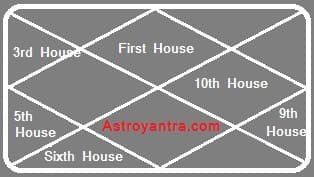 Fifth House
5th house indicates intelligence and higher education.
Sixth House
6th house must be strong in the horoscope for the native to be successful in any competitive examination. The relationship between the sixth and tenth house is very necessary for success in the competitive examination.
The success of a person in an administrative job depends upon the strong placement of these houses, houses Lord and their reciprocal relationship.
Tenth house
The 10th house is the house of the profession in every individual horoscope. The astrologer predicts the profession of the native on the basis of the 10th house, lord of this house and planets placed in this house. In fact, the 10th house signifies all careers related questions.
However, there are some people who luckily get a good position in life and enjoy high status in their job, like I.A.S officers. For these services, the rules of Astrology are as follows
Image of  IAS Sameer Verma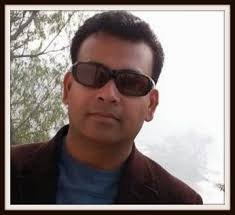 Planetary combination for IAS and IPS in Birth chart
Role of planets for success in Exam
Sun, Jupiter, Saturn and Mars are the key planets in your horoscope for administrative services. These planets are very helpful in any administrative success.
Sun signifies of govt job. Sun also indicate higher post in government.
Jupiter is the significator of knowledge.
Mars planets depict courage and quick decision and reaction. Mars makes a person courageous, energetic and enthusiastic, which is very essential to achieving success in life. Mars also indicates the possibility to join police services.
Saturn signifies people and hard work in society. Saturn also does work like bridges the gap between the people and administrative officers or authorities.
Astrological yoga in horoscope
There is a lot of planetary yoga available in the horoscope but some yoga is very necessary for high achievement in society or government and public sector.
1. Raj yoga
The lord of the Navamsha sign which the Moon occupies resides in a Kendra or Trikona from Lagan or Mercury. The person becomes a commander or ruler.
One of the lords of the 11th, the 9th and the 2nd houses, is in a Kendra from Moon, while Jupiter is the lord of either the 2nd, 5th or 11th house. The individual becomes a great man or a respected ruler.
2. Dhan yoga
If the lord of the Lagna is having a relationship with the 2nd, or 5th, or 9th or 11th house or house lord by aspect or conjunction then the person will be wealthy.
3. Gajakesari yoga
Jupiter in a Kendra from Moon. The person is illustrious, overpowering, virtuous, wealthy, intelligent, and scholarly, of royal bearing and enjoys lasting fame.
4. Budha-Aditya Yoga
Sun and Mercury are conjunct in the same house (also known as Budhadhiya Yoga). The person is sweet-tongued, clever, scholarly, virtuous and will have learning, wealth, progeny and self-control, earns wealth by serving others. Also said to be highly intelligent, skilful in all works with a good reputation.
5. karma jiva yoga
f the strong Mercury is situated in the tenth house and there is no sight of any inauspicious planet, then the fame of such a person spreads in different directions
Role of Dasha (Period & Sub-period) and Transit of planets
The good planet Dasha or Anterdasha (Period & Sub-period) is also very necessary to success in competition and after joining of the job also. If your birth chart promise administrative job but your good Dasha and transit of planets are not going on then it is very difficult to select in the exam.
If the Dasha of the lord of Ascendant, six, the ninth or tenth house is going on then the native can be a success in the competitive exam.
The role of transiting planets is very important for the achievement of the goal. If the period or sub-period lord is transiting with the tenth, sixth house or aspect in this house then the result will come positive
If the period isis favourable and transits are not favourable then the result will not come positive so both period and transits are most important for success in the competitive exam.
We should also find out the double Gonchar transits on the related house if the transits are favourable then success will come surely.
Planetary Combination for IAS and IPS in Birth Chart
1. Mutual relation of the ninth, tenth and eleventh house and its Lord or parivartan yoga the possibilities to become an I.A.S.
2. If two or three planets like Jupiter, Saturn, Sun or Venus are exalted and placed in the good house and mutual aspects or conjunction with each other. The person becomes an IAS officer.
3. If Saturn and Mars have a connection with the 10 house/lord in the birth chart or D 9 chart then possibilities to join the police or army department.
4. Exalted Moon in Kendra or relationship with the tenth house or tenth lord.
Horoscope of IAS officer
Date of Birth: – 19 September 1954
Time of Birth: – 04:30:27,
Place of Birth: – Patna
State of Birth: – Bihar
The aforesaid astrological factors for IAS, IPS services are illustrated in this birth chart
 Analysis of the above horoscope
In the above horoscope, the person is working as an IAS officer. Now you can see Astrological Planetary yoga for Indian administrative service in this horoscope.
1 Ascendant lord Sun is placed in 2nd house with exalted second and 11th lord Mercury this is a strong" Dhan Yoga" in this horoscope.
2. Sun and Mercury are placed in the same house and make "Budhatiya Yoga". Here Mercury is exalted in his own house.
3. Sixth house (House of Competition) lord Saturn is exalted and placed in the house of 3rd (house of Courage and labour) with 10th lord Venus.
4. Tenth lord Venus is in the house of 3rd with exalted 6th and 7th lord Saturn. Here, the 10th lord, Venus placed in his own house Libra this is a very positive sign regarding his career.
5. 5th or trikon house lord Jupiter is also exalted and placed in 12th house and aspect to 6th house (house of competition).
6. Moon is also exalted and placed in the 10th house (House of Karma, Career, Profession)
Planetary Combination for IAS and IPS officer From Moon sign
1. Ascendant lord Venus is placed in the 6th house with exalted 10th lord Saturn is a very good combination for administrative service.
2. Fourth Lord Sun and exalted Fifth lord Mercury placed in 5th house. These planets also created " Rajyoga" and " Budhadity yoga" in the trikon house.
3. The sixth lord is in the sixth house with the exalted 10th house lord Saturn.
4. Ninth and tenth lord Saturn is exalted and aspect to exalted 11th lord Jupiter and both are Kendra from each other.
5. The tenth lord Saturn is exalted created "Karmjivi yoga" this yoga gives name and fame in all directions.
Planetary Combination for IAS and IPS officer From Navamsa chart 
D 9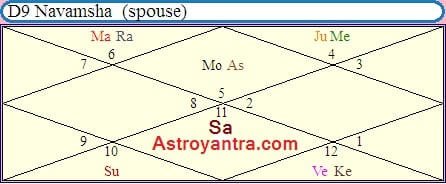 1. Navamsa chart 10th lord Venus is exalted and aspect to Fortune lord Mars.
2. Jupiter has exalted in the Navamsa chart and "Vargottam" also.
3. Ascendant is also "Vargottam".
The D 1, D 9 and Moon charts indicate the planetary strong planetary combination of IAS, and IPS yoga in the above horoscope. The person is presently working as a DIG officer with maintaining some secrecy I am not an open name of this person.
Lawyer and Judicial officer Yog in horoscope
Astrological combination for  Politician yoga in Astrology 
---

---