DR.DEEPAK SHARMA
Dr Deepak Sharma is a notable Vedic Astrologer and Vastu consultant with a new way to astrology. He has completed MA and PhD from the University of Delhi after that got the degrees of Jyotish Praveen and Jyotish Visharad from ICAS (Indian Council of Astrological Science, Roop Nagar, New Delhi). He ended research works on Predictive Astrology under the direction of legendary Jyotish Guru Shri J N Sharma. He also holds a Diploma degree in Medical Astrology from Lal Bahadur Shastri Vidyapith Delhi.
He has been advancing work in the field of astrology for the past twenty years. He has an excellent name for giving the remedies and accurate predictions on Marriage, Match-making, business, Share market,  Educational guidance, Health, Relationship etc.
H is a firm believer of  Prashna Kundli (Horary Horoscope). He has made much right foresight on Marriage, Foreign Travel, Career, childbirth, and death. Prashan Kundli ( Horary Chart)  is helpful, notably for those who don't know birth details but want to know their fate.  Many of his clients benefitted from his predictions and advice through Prashan Kundali.
He has also done Post Graduate Diploma in Vastu Shastra from Lal Bahadur Shastri Vidyapith Delhi more given talks on the same topic in Delhi Sanskrit Academy. He has consulted to a vast number of esteemed clients and turned their lifestyle using Astrology as well as Vastu remedies.
He is doing Vastu for the last ten years with the expertise in connecting of vital points of Vastu Purush in Plot/ Land/ Building and in Map designing and Architectural Designing with Vastu norms.
सर्वे भवन्तु सुखिनः सर्वे सन्तु निरामया सर्वे भद्राणि पश्यन्तु  मा कश्चित दुःख भाग्भवेत
Welcome to Astroyantra. I wish to benefit all of you through an article published on this website. The contents of this website like articles, almanac, horoscope,   marriage matching, predictions, Vastu advice are completely based on traditional Indian Vedic astrology. My aim is to help people to get out of their problems regarding health, money, marriage, career etc. by using horoscope. I will continue to publish my advice, to improve your luck and remove the bad effects. If you will stay with me then there is not only hope but full faith that God will fulfil your desires.
तमसो मा ज्योतिर्गमय
Note: In the concern of helping people, I have decided to give astrological suggestions for every solitary problem. If you are facing any problem and want to get suggestions from me then you can contact me.

Email:-         drdk108@gmail.com 
Telephone :-

  9868549875,  

8010205995 
If you want to take astrological advice on my behalf such as career, marriage, study abroad, gems etc. then my consultancy fee for this
selected area

is eleven hundred rupees ( 1100Rs).

For complete information click on Astro Services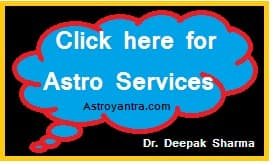 Note: –  Please don't call me for the free suggestion.