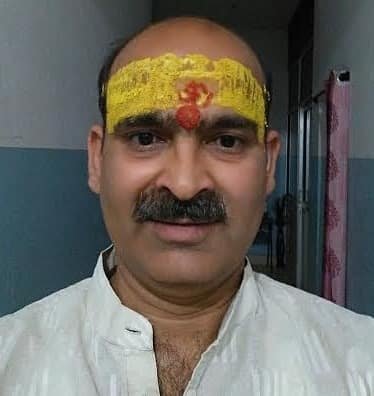 Dr Deepak Sharma is well known Vastushastri. Dr Sharma has been expertise in astrology and Vastu Shastra. He is very prominent in his work in the field of Astro-Vastu. He has acquired good skills and knowledge in modern Astrology from the Indian Council of Astrological Science (ICAS).
Dr.Sharma has completed Post Graduate Diploma in Vaastu Shastra from Lal Bahadur Shastri Vidyapith Delhi further given lectures on the same topic in Delhi Sanskrit Academy. He has consulted to a large number of esteemed clients like Politicians, Celebrities, Media Industrialist etc and changed their lifestyle using Astrology as well as Vastu Remedies.
Dr Sharma is into giving his professional consultancy of Vaastu for the last ten years with the expertise in Identification of vital points of Vaastu Shastra.
VASTU  Without Demolition 
---
---
Vastu Consultancy by Dr Deepak Sharma 
To Fix an Appointment Call Now on :
+91 (0)  9868549875, 8010205995,  drdk108@gmail.com
---
1.
Vastu Services
Home visit in Delhi and NCR  for Vastu + Horoscope reading ( All family member)
Rs 9,000 
---
2.
Solved online vastu related problems ( through Map)
Rs 4,100
---
3.
Vastu for residential properties
Rs 4,100
---
4.
Vastu for industrial properties
Rs 11,000 
---
5.
Vastu for commercial properties
Rs 11,000
---
6.
Vastu guidance on all type of plans
Rs 5,100 
---
Personal Meeting or online service with
Dr Deepak Sharma
By choosing any service you can discuss only selected service don't wisely intermix topic.

I will reply answer through email or telephone or whatsapp. The discussion time will be decided by me with your choice. I request you don't try to bargain about fees.

First, you select related concern and deposit payment after that inform me through email or telephone.

I will reply to your concern within 24 or 48 hours.
Confirm your request through payment
Bank Detail
NAME:                                  DR. DEEPAK KUMAR
NAME OF BANK:               STATE BANK OF INDIA ( SBI )
BANK  A/C NO:                  30699911265
BRANCH ADDRESS:         SECTOR 24,  ROHINI,  NEW DELHI 
IFSC CODE :                         SBIN0011551,
——————————————————————————————————————–
Telephone No: 9868549875 
Whatsapp No – 8010205995
Email: drdk108@gmail.com
---
---