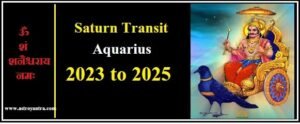 Saturn Transit in Aquarius 2023: Effects on Health Career & Family – Astroyantra. Saturn is a cruel planet and if it has an inauspicious effect on your horoscope then life is filled with sorrows. The house on which Saturn's malefic aspect will reduce the result related to that house, as well as the person will face up and down. For the people of Aquarius, Saturn is transiting in the ascendant. Saturn is the lord of the ascendant and the twelfth (expenses, salvation, etc.) house. Saturn is transiting in the ascendant and this place is related to body, honor, fame, etc., due to which you may suffer physical pain and loss of fame.
Your zodiac sign is Aquarius, so your Sade Sati is also going on. Saturn aspects third house, so you can anger your brothers, sisters, and relatives with your dirty words. Because of this, you can also suffer loss. Due to one's own negative thinking, the work done can be postponed. Chant Hare Krishna Hare Rama regularly.
Due to being the ruling planet of the 12th and 1st house in Aquarius, Saturn will transit in Aquarius only. With the transit of Saturn in Aquarius, the first phase of Sade Sati will end and the second phase will begin. If you are doing your work in the right direction then you will definitely get successful. Not only this, but if you work hard and do not expect much, and focus only on doing good work, then you will be successful in every field.
Saturn Transit in Aquarius 2023 | General Result of native
For the Aquarius ascendant, Saturn is the lord of the ascendant and expenditure house. Shani is the lord of loss and will remain in transit for two and a half years, due to which he may become physically weak and suffer from Mental disturbance. During this time you will work and someone else will take the credit which will hurt you.
At this time, Shani will transit over the Moon, so it will motivate you to think negatively, as a result, you can go through mental pain. You will also feel physical discomfort. To avoid the wrath of Shani, donate things related to Shani.
Saturn Transit 2023: Effects on Family and married life
Saturn's transit can create estrangement in family life. Clashes on small things will create tension for both of you. Control yourself, everything will be fine. Saturn is affecting your matrimonial house, due to which you will feel some lack of marital happiness. Mistrusting each other will give rise to many kinds of problems. Respect each other's feelings and solve the problem together with decency.
A slight problem may arise regarding the health of the life partner. Be aware of your responsibilities towards family and society and be ready to discharge your duties. If the position of the seventh lord in your horoscope is not good and is under the influence of an inauspicious planet, then there may be divorce or separation from the life partner for a few days. The more you respect your family and life partner, the more fame and authority you will get in society.
Saturn Transit in Aquarius 2023: Effect on Career & Business Sector 
You will grow your business only on the strength of your might. Saturn is the lord of loss and is looking at the place of work, so invest wisely. During this period, you will be ready to do many jobs to earn money, but do not be in a hurry, doing so can cause losses. (Know! Is there wealth yoga in your horoscope or not?) Before doing any work in partnership, you must think about profit and loss. You may suffer loss in partnership. Keep in mind that no work will be done easily, so keep patience only then your work will be completed. There will also be many opportunities to strengthen the economic situation. In the beginning, there may be losses in the business, but it is not that there will always be losses, gradually there will be opportunities for profit.
For your career, this period will be quite beneficial. It will grow if you run a firm. Success is possible in international business as well. Additionally, you'll move up in the company and develop a stronger personality. Your personality will be powerful, and your work will be stable. You'll feel extremely cozy doing this. While your siblings will support you, they can be bothered by a physical issues. Although this period will not be ideal for marriage and you may need to spend some time apart from your spouse due to job obligations, you will be able to make the most of this time and improve your relationship.
Saturn Transit in Aquarius 2023: Effects on Job
If you are looking for a job then you will get good job opportunities. During this time you can get some important position, but do not forget that everything will happen easily, first, you will be sad, later you will be happy. Efforts made in job and business will be fruitful in the coming two and a half years. Saturn is aspecting your third house, so you will get success through hard work.
Must read for:– When will you get the job?
Saturn Transit 2023: Health
If we talk about health, then Saturn is sitting in your ascendant house, so it will definitely harm your health. You may have diseases of the nose, ear, throat, eyes, etc. and if Mercury is in an inauspicious position and aspected by Mars or Saturn, then you should be very careful. You may be a victim of a disease like depression. Sometimes you may even develop suicidal tendencies.