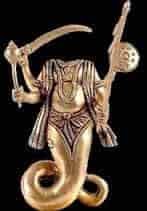 Ketu transit 2023 effects on Aquarius Persons. Ketu will transit in Libra from 17th March 2022 to 28th November 2023. The motion of the planet Ketu is retrograde (Learn why planets are retrograde?). Let us know how the change of planet Ketu from Scorpio to Libra will affect various areas of the life of a person born with the Aquarius sign like business, wealth, parents, education, family, siblings, and married life.
Ketu Transit 2023 Effects on Aquarius Sign
The transit of Ketu (Ketu Transit 2022) will be in the ninth house for the people of Aquarius ( Sign). This house represents father, fortune, religion, education, and foreign travel. Therefore, due to the transit of Ketu, certain said results will be obtained. At this time you will start cursing your luck every day. You will say again and again that my luck is bad, what should I do now? So keep faith in karma and its result.
Stop cursing your luck and believe in hard work, you will definitely get successful. You will definitely get the benefit of the hard work you have done, but for this, you will have to be patient. Do not be lazy about any work, otherwise, you can lose the golden opportunity.
Your ability to make decisions will also be affected somewhere. You will not be able to identify right from wrong, for which you will have to bear the consequences. So be careful in taking any kind of decision. Father's health may deteriorate. From September to January, you will also need to take care of your health. You may have to spend money on your health. The health of siblings can also deteriorate.
You can go on a pilgrimage with your family. The importance of ancient beliefs and ideology will increase in your life. Thoughtful interest in religious work and salvation will increase. If this does not happen then you will definitely be mentally disturbed. Such negative thinking can only be overcome by an interest in religion and spirituality.
Foreign travel and Ketu transit
Foreign travel and settlement are being formed by the transit of Ketu in the 9th house. When Ketu is transiting in the ninth house, then your prudence will increase, but they worry about the future will remain. There will be some reduction in discomfort due to prudence.
This time is favorable for the students, there is a lot of chance of success in competitive examinations, so make good use of this time, and stay away from laziness, otherwise, you will have to repent later. Now, what would you regret when the bird missed the field? It is possible to build luck only by your own hard work, so don't be lazy.