Yellow Sapphire (pukharaj) gemstone ruled by planet Jupiter. It helps to maintain sound health, wealth, wisdom, prosperity, financial gain, name and fame, longevity and success in life. For the dedication towards the almighty, God, one must use this gemstone to get the benevolent effect. It is observed that saints are using sapphire for the realizing of their ambition and occultism this gemstone helps to maintain cordial relationship with the partners. Indeed it is a massive function in general it is said to be the planet for development of human fate and destiny.
Image of yellow sapphire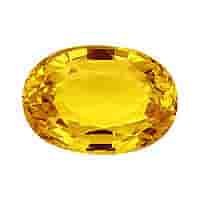 Source of yellow sapphire
Australia, Brazil, Burma, Ceylon, Cambodia, East Africa, India (Himalayas), Sri Lanka, Thailand, United States, Vietnam, Russia and quince land  are the prominent sources of it. It is primarily found in yellow and different shades of yellow, besides in white and orange colors.
Who should wear yellow sapphire? And why
According to Astrology  who will wear yellow sapphire it is depend on the situation of the planet Jupiter in the horoscope of individual because  yellow sapphire represents the planet Jupiter. If Jupiter is well placed and the Lord of trikon (1st, 5th, and 9th) in your horoscope, and giving the good results you must wear yellow sapphire. If you are facing finance problems or having loses in your business you can wear yellow sapphire but it is very important to consult an experienced Astrologer before wearing yellow sapphire as if in your horoscope Jupiter is playing a malefic role that can also harm instead of giving you beneficial results.
It is also very beneficial for girls who have not found any good life partner or they are having faced many problems in getting married. As Jupiter is significator of son so if anybody interested to bless with a son must wear the yellow sapphire. There are many diseases, in which the yellow sapphire can be very help full. Those who have already married can find this stone beneficial with its abilities to ensure a cordial relationship. Besides strengthening marital relationships, it is also auspicious for strengthening the bond of friendship. it is also beneficial for job seeker person.
Health benefit
If Jupiter is in the natal chart or debiliated in the Palm from the point of view of mount following disease may take place anemia, headache, jaundice, hysteria, throat trouble, constipation, trouble in hand and arm, tuberculosis, dropsy, intestinal obstruction,fever,heartailment, cirrhosis of lever, breathing trouble, sudden bleeding, cough, kidney disease etc. Yellow sapphire can be very helpful for above disease.
Which birth sign (Rashis) and Lagna good for yellow sapphire
The stone of yellow sapphire will be good for Aries, cancer, Leo, Scorpio, Sagittarius and Pisces sign But there are specific conditions and placement of the star Jupiter on which it depends whether yellow sapphire will suit a person or not. For better and specific suitability must consult an expert astrologer.
Aries
Yellow sapphire gemstone is very beneficial for Aries ascendant born because Jupiter becomes the 9th house lord and this house indicate luck house so It is a luck giving stone. it will give tremendous results in the dasha of Jupiter.
Taurus and Gemini
Do not wear it as Jupiter is 8th & 11th lord and markesh as well as is lord of 7th and 10th house.
Cancer
As Jupiter is the lord of 6th and 9th house so it can give better results if worn with Red coral and pearl.
Leo
Jupiter becomes 5th house lord for this lagan so it can give good results in combination of ruby gemstone especially in the mahadasha or Antardasha of Jupiter or Ascendant lord Sun.
Virgo :-

 A person can wear it.
Libra:-

 Do not wear it because it is the lord of 3rd or 6th house.
Scorpio
Scorpio born can be worn as it is the lord of 2nd and 5th house. 5th house is the house of trikon.
Sagittarius and Pisces
Sagittarius and Pisces born must be worn because it became Ascendant lord so It will give good result.
Capricorn and Aquarius
Do not wear it.
Method of wearing of yellow sapphire
Yellow sapphire gemstone should wear in the following condition:–
Day          —- Thursday.
Hora        —- Guru.
Paksha    —-   Sukal.
Tithi         —-   Purnima.
Nakshatra — Punarvasu, Vishakha, poorvabhadrapada.
Mantra —- Om em kleem brihaspatye namah or "Om Graam Greem Graum Sah Grove Namah"
It should be set up in a ring made of Gold on Thursday. The weight of the yellow sapphire gemstone should not be less than 5 rattikas. The gemstone should be of  7, , 9, or 12 rattis will give you good result. It may be worn on the Index finger of the right hand. First you keep in gangajal with unboiled cow milk, honey, Akshat and chandan after an hour or according to suggestion by astrologer wash it.  Put the gemstone on yellow cotton, Burn incense sticks to Name of Vishnu devta and pray in front of your God Vishnu that I am going to wear the representative gemstone yellow sapphire to have Blessings me. You should chant Mantra at least 108 times and wear it in the index finger of the right hand.