Vastu Tips for Bedroom. The bedroom plays one of the most important roles in life not because it is the most personal room in a house but because it is a room of dreams, also said no life without a dream, so no good life, without good direction for your bedroom.
Some Important Vastu Tips for Bedroom
South West Direction 
The master bedroom for the head of the family must be in the South-West direction, there is no other option for that if you don't do this it means no one will follow your order or advice and slowly- slowly you will lose unity of your family
South-East Direction
South-East direction is not good for Master Bedroom if you're sleeping in this direction as a result increase anger, deprives of sound sleep, will take a wrong decision, constant quarrels between couples, and incurs too much expenditure. If children live in this direction then do not take an interest in their studies.
East Direction
The East direction is not ideal for married couples it is ideal for unmarried children.
North East Direction 
The north-east direction is the sacred area of the house there should not have any bedrooms if you have no option then you should do vastu for this direction and keep your bed in the south-west area. Always keep your head in the south or east direction if you don't do that you can suffer from neuron or brain-related problems.
North Direction
A bedroom in the North area is the best direction for newly married young couples.
North West Direction 
North-west area or Vayavya Kona is ideal for the new couple. The bedroom in this direction is best for unmarried girls. If you want to marry her girl immediately or facing problems in getting married then that is the best direction. This direction is also best for a guest person.
West Direction
The West direction is a good direction for students, especially for the competitive view. If you want the birth of a girl child then this is the best direction for that purpose.
Vastu Image for Bedroom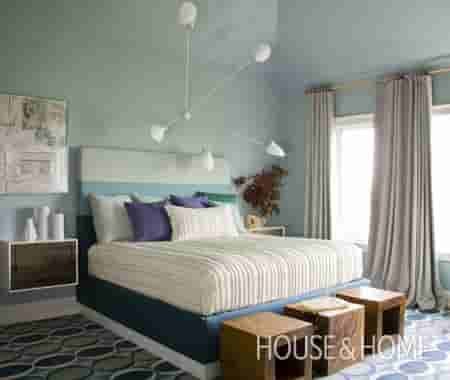 Interior Color for Bedroom
Choose your Bedroom color according to the nature of the color.
Red

color represents aggressiveness and adamant so this color is not good for the bedroom it you use this color then quarreling without reason between husband and wife will be going on son best to avoid them.

The cream

color is best for a peaceful life with all family members.

The pink

color is good for romance and happiness.

Yellow

is good for education and spiritualism, wisdom, and patience also.

Orange

color is for spiritual power. Purple is a symbol of trust, respect, and faith.

The blue

color is best for the bedroom it represents growth and relaxation in life. This color creates a good environment between husband and wife.

Green

color creates a good atmosphere in the bedroom it is a color of nature, and hope and also has the ability to rejuvenate the mind and body.