Role of Mars and Saturn in the Engineering profession. Mars and Saturn are the primary significators for the Engineering profession. The main engineering sectors like mechanical, electrical, civil, computer, and electronic, require the application of force and fire to give shape to a given project in the above areas of engineering. Mars is a fiery planet, which represents energy and force, while Saturn signifies labor.  Mathematics and mental abilities are integral parts of engineering studies and Mercury provides those abilities.  Venus is the planet of beauty and design as well as planning. Rahu is the planet, which gives manipulative abilities with innovative ideas.
Saturn, Mars, and Rahu carry technological approaches. So the relationship between Saturn, Mars, and Rahu with the 10th house, 10th Lord, 5th house, (that is the house of mind and education) and 5th Lord give sure engineering service.
Relationship of the planets, House and Lord
Conjunction.
Mutual Aspect.
Mutual Exchange.
Planets in related house.
Planets in each other Nakshatra.
Planet in other signs and aspects by others.
Above astrological relation can be in D-1 (Natal Chart), D-9 (Navamsa chart – internal planetary strength ), D-10 ( for the professional matter), D-24 (sub-divisional chart for educational prosperity), etc. The mutual interactions amongst the planets are important in deciding the branches of engineering.
Mars:- Mechanical, Electrical, Civil Engineering.
Mercury:- Information Technology (IT section).
Venus:- Computer, Architectural Engineer.
Saturn:- Mining Engineering, Agricultural Engineering, drilling, crude oil exploration, etc.
Rahu:- Software Engineer.
The natural significator of the job is Saturn so Saturn's strength and good placement are, the most important factors for success in professional matters. The correlation between Mars and Saturn with any fiery signs in D1 provides the necessary impetus for engineering studies.
Date of Birth:- 24-12-1958  Time of Birth:- 8:22 Place of Birth:- Delhi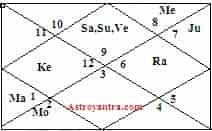 Example Kundli:– Saturn from Lagna aspects 10th house. Mars as the 5th Lord aspects 10th Lord from the 5th house. Rahu is in the 10th house.