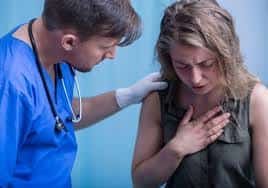 Why Asthma? Solution through Astrology. Whenever a person feels difficulty in breathing or any problem of respiration, he/she has to suffer from the disease Asthma. Now a day's asthma is the most common chronic disease it affects millions of people although people of all ages suffer from this disease. Its often start from childhood. The main causes of the disease are allergies, Environmental factors, stress, airways hyperreactivity etc…
According to astrology, it is not very difficult to find out why a person suffering from this disease. Mercury is the chief significator of Asthma disease. Due to the cold planet, Moon is also significator of asthma.  When Mercury is weak or afflicted and have any malefic aspect in your horoscope with concerned inflicting planets the disease of asthma commences.
If Moon and Mercury are weak afflicted and/or associated with malefic planets they indicate they indicate the native will suffer an asthmatic problem.  I have provided the following parameters on the basis of self-experience and classical principles.
In the horoscope, 3rd house represents breathing malefic especially Rah in the 3rd house provides adversity in breathing. 4rth house represents the lungs.  6th house is the house of disease and, 12th house is the house of Hospital, ascendant or Lord is native so if above said house or house Lord are related with each other with aspect, conjunction, or planets in this house, and also must be affected by the malefic planet Saturn, Mars, Rah and Ketu than sure shot the person will suffer from asthma.
Horoscope of Dr. Rajendra Prasad 
This is Dr Rajendra Prasad's horoscope. He was an Asthma patient. Above horoscope asthma significator planet Mercury placed in Lagan with malefic Mars and Saturn aspect 3rd house, Mars aspect 4rth house, Moon placed in 6th house with malefic Saturn. Here malefic Saturn afflicts Moon and Sun both from the house of disease. Ketu placed in 4rth house.
From Moon Lagan Saturn aspect 3rd house and associated with 3rd lord Moon. Malefic planet Mars aspect 3rd house from 8th house so it is very clear that 3rd house and Lord are weak. Mercury associated with malefic Mars in the house of 8th. All the astrological parameter is present in this horoscope.
        Astrological Remedies for Asthma
Make the Ascendant Lord strong first by wearing gems or worshipping.
If Mercury is in your horoscope to be as a Lagna, 4rth,5th, 9th, 10th Lord, aspect by malefic planets and situated in Kendra or Trikona then must we wear Emerald (Panna)  gems.
If your Mercury is situated in 6th, 8th or 12th house and aspect by malefic than don't wear Panna and dark green colour cloth in this condition native should donate green cloth to kineer, green fruit to children especially girls children.
If your moon planets are weak then do strong by wearing gemstone  Pearl (Moti) or chandrakantmani .
Do worship donation, chant Mantra, vrat or Tantrik Totakka for the peace of Rah planet or all related malefic planets.
Read every day Moon and Mercury Kwacha path at morning.
Start every day Meditation and Pranayam in morning or evening or both.
Take vaporize of thyme (Ajvaen).