Abroad Travel and Settlement Yoga in Vedic Astrology. Now a day's everyone has a dream to travel abroad. One first question that comes in mind, is it possible for me, if yes then why and how will it be possible? For what purpose/ reason I will go to abroad? There are many possibilities', like for pursuing Education, service, business, permanent settlement, tourism or pilgrimage journey, diplomatic, government assignment, marriage with foreigner etc. Now question arises in mind who will give the answer to my question. I think astrology can give a quiet satisfying answer, so one should approach to an astrologer for that purpose.
An Astrologer can guide you about your confusions like foreign settlement, foreign education etc. There are many astrological combinations related to abroad or foreign settlement is present in astrology. An astrologer can predict about foreign travels at the time of birth, when you will go to abroad on the analysis of your birth chart / horoscope.
Abroad traveling has become more common these days due to globalization, there are many foreign companies called MNCs that hire people from India, even the movement of students abroad for higher studies has increased to a great extent. So let's know about the possible astrological combinations for abroad travel.
Related Houses for abroad travel and settlement
As the classical text and commentary mention a few scattered planetary combinations in this respect . According to Astrology 3th, 4rth, 7th, 8th, 9th or 12th houses of every horoscope represent foreign travel and settlement.
Houses
3rd House – Signifies short journey and also house of 12th from 4rth house
4th House – Signifies birth place`s house
7th house – Signifies journey and foreign settlement
8th House – Signifies change in profession etc.
9th House – Signifies long journey and fate
10th house – Signifies career or profession
12th house – Signifies foreign land house
Promise and timing of traveling abroad
If the above mentioned houses are connected to each other like 4th lord (home) and 12th lord (foreign house) with 10th lord (career, profession) it means the native will travel foreign for career and permanent settlement is possible on foreign land.
If 5th, 9th and 12th house are connected to each other, then people will go abroad for attending seminars, lectures or educational purposes.
When the main period or sub period of planets owning or occupying these houses or there is connection of period Lord with above said signifying houses ( 3rd, 4th, 9th,10th, 12th) there may be abroad travel.
Even the transit of Saturn, Jupiter and Rahu from these houses facilitates foreign travel.
Double transit of Saturn and Jupiter on foreign house will give auspicious result.
Important Rule for abroad travel and settlement
4th house and Lord from Ascendant, Moon Sign and Pada Lagna also must be afflicted by malefic planets like Saturn, Mars, Rahu etc.
Rahu and ketu connection with 4th house and lord from both lagna .
If 4th house is afflicted by malefic planet or 4rth Lord is placed in 6th house, 8th house, or 12th house in the horoscope the person will leave his native place to settle abroad.
Rahu and ketu axis is in 12th house from both Lagna.
Rah and ketu axis is in 12th house from Pada Lagna also and connection with 4rth house and lord from pada lagna.
Ketu situated in 12th house (House of foreign land).
If the Moon itself placed in quadrant, Cancer or Pisces sign, exalted or own house in 8th, 9th or 12th house, or Trikon especially in 9th house foreign travel is sure.
If 4rth house lord placed in 12th house and 12th house lord in the fourth house the native will settle abroad.
9th Lord placed in 12th house It means fortune from abroad so the native will go abroad and living in sage heritage because 12th house is 4rth from 9th house which is house of pilgrimage.
If dispositor of Moon connected with 9th house and Lord, 12th house and Lord the native also think for abroad travel and at last he will fulfill their desire.
Majority of planet placed in movable sign in Kendra and Moon must place there.
If 5th house and Lord connected with 12th house or Lord the person will go to foreign country for the purpose of studies. If 10th Lord is also connected then the native will go for studies and after that do job also.
7th houses and Lord signifies frequent travel, trades and foreign country also so 7th house or 7th Lord Connection to 9th house or Lord and 12th house or 12th Lord the person will go away from native place.
Now we would illustrate further through horoscope of native who traveled abroad and had residence in foreign countries.
Example Horoscope
DOB: 21 September 1970,  Time: 21:45,  Place: Mumbai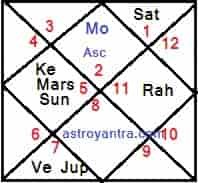 1. Above mention horoscope Ascendant Lord Venus placed in 6th house with 8th lord Jupiter and aspect to 12th house (House of foreign).
2. 10th lord Saturn placed in 12th house (House of foreign).
3. Ascendant lord Venus aspect to 10th lord Saturn and foreign house.
4. 4th house is also afflicted with three malefic planet Mars, Rahu and ketu.
5. 12th and 7th House lord Mars is placed in the 4th house.
6. 9th house (House of long journey) lord Saturn is placed in foreign house.
7. Foreign house lord Mars is associated with Rahu ketu axis.
The person always visits to foreign county for professional reason. Profession house lord Saturn placed in foreign house and Ascendant lord Venus aspect to Saturn so native visit abroad for work in this horoscope. Horoscope of the native fulfills many rules which is already mention.