Second Marriage Combination in horoscope. Everyone have one dream to spent lifelong happy married life but sometimes this dream come true but sometimes this dream does not come true and marriage end up in divorce or separation. If more than one marriage or divorce or sepration combination present in your horoscope /natal chart/ kundali  then only possible of remarriage. So that it is very clear that Second marriage is possible only when your first wife or husband will death or divorce. There are many planetary combinations for Divorce, widow and widower is become in the horoscope of the person. 7th house is the main reason behind marriage, divorce and second marriage.  There are some yoga in your horoscope will explain that you will have a separation or divorce with your life partner. If any planetary combination is present in your horoscope then can be predict that your second marriage is possible.
Now first question is that how to know second marriage prediction, it can predict with the help of Astrology.  7th house in the horoscope is the house of MARRIAGE so that 7th house, 7th house Lord and benefice or malefic aspect on 7th house is the most important thing for marriage or second marriage prediction. There are so many planetary combinations are available in astrology that is used to explain second marriage in astrology.
Marriage or second Marriage related House in Horoscope
Ascendant or Lagna –   self
2nd house/lord-                family life and longevity of spouse,
                                              Second marriage house
7th house/lord –               Marriage house, wife or husband
9th house/lord-                 significator of second marriage
11th house / lord –            fulfill of desire              
Jupiter –                             Significator of husband in female chart
Venus –                               significator of wife in male chart
 Sign –                                  Dual Sign Gemini, Virgo, Sagittarius and Pisces
Some important parameter for Second marriage 
If dual sign Gemini, Virgo, Sagittarius and Pisces are present in the 7th house and its Sign Lord Mercury and Jupiter situated in any dual sign then second marriage is possible.
7th and Ascendant lord both are placed dual sign in Navamsa and natal chart.
If two or three malefic planets (Saturn, Sun, Mars, Rahu and Ketu) are aspect on 7th house or 7th Lord.
7th Lord placed in dual sign in natal chart and Navamsa chart.
When Saturn & Mercury are placed in 7th house and two other planets are in the 11th house then the native will get married two times. If somehow the Ketu or Rahu is involved with this yoga so the second marriage will be happen in secret.
 Ascendant lord and seventh lord both are placed either in ascendant or 7th house or in Navamsha but both planets situated in dual Sign.
If the 7th lord from both lagna is in dual sign and conjoined with Venus.
 If the lord of the 7th house is weak or in a retrograde condition and aspected by malefic planets then there is a chance of second marriage.
If the 7th lord and Lagna lord both are placed in dual sign in Eleventh house.
If  7th  lord  is located in bad house  such as 6th, 8th or 12th  and a malefic planets such as Mars, Rahu or Saturn placed in  the 7th house and Venus is in weak position with a natural positive planet then there is a chance of 2nd marriage.
If the 8th lord placed in 1st house or 7th  house and  7th  lord placed in dual sign or any how influenced by malefic planets like Saturn, Mars, Rahu etc so there will be two marriages possible.
If the lords of 2nd house (House of family) or 2nd house Lord and 7th house or Lord are influenced by malefic planets two marriage can be possible.
If the there is malefic planets in 7th house and 7th lord is in dual sign in natal chart or in Navamsa, more than one marriage is possible.
Second marriage is indicated if The lord of the Ninth house is placed either of the houses of second or Eleventh or any how connected to these house.
The Lord of  7th  house or  its Star lord is placed in a dual sign(gemini,virgo,sagittrius,   Pisces) or  if the house Lord is placed in the Nakshatra of dual sign Lord .
The Lord of 7th house is placed either of the houses second (family house) or Eleventh (house of desire) or both.
Second marriage is indicated if the lord of the second house is also a significator of either of the houses seventh or eleventh.
Second marriage is indicated if the lord of the Ninth house is placed either of the houses of second or Eleventh or any how connected to these house.
If the two or more than two planets placed in the 7th house with Venus (significator of wife) and also present malefic influence on that house more than one marriage possible.
 Venus shoud be placed in dual sign in natal chart or Navamsa chart.
Please note:
Above all rule must be applied from all ascendant/Lagna and Navamsa chart also. If any of the above two or three conditions are not available in your horoscope then second marriage will not possible.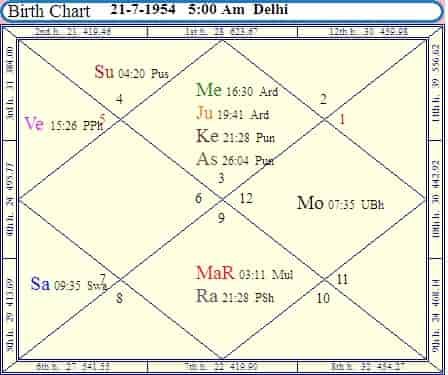 D-9 Navamsa Chart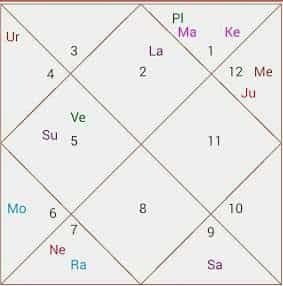 This horoscope belongs to a  smart boy  who was born on 21 July 1954 in Delhi . Gemini  sign is rising in Lagna and  Mercury  being the Lagna lord is placed in Lagn with seventh Lord Jupiter both Lagna Lord and 7th Lord are in Ascendant and even Sign it is clear indication of second marriage . it is also in Rahu ketu axis .
In Navamsa chart again both planet Mercury and Jupiter are placed in even sign and eleventh house again this planetary combination indicate divorce or separation and remarriage .