Medical Profession | Doctor Combination in Astrology. After completing the 10th exam students and their parents become with dilemma whether they should opt medical field or not? They face a lot of confusion and raise questions like I will be success in Medical exam or not. Medical / Doctor Profession is very prestigious in all aspects. Many students appear in medical exam every year but success comes to few. Question is that what's that missing factor which keeps success away from you despite of so much of hard work?
Astrology and astrologers are able to provide proper guidance with the help of your horoscope / Kundali because planets and their placement in horoscope / kundali play a very important role in the result of one's success or failure in Medical profession or other career.
Here I am providing you some astrological combination which you can see your horoscope if that combination is present in your horoscope then you should opt Medical field and start preparation for Medical Test. I assure you will sure success so now open your horoscope and start to see combination that is given by me.
 Responsible House / Bhav for Medical Profession 
First House
First house denotes physical and mental aptitude and inclination toward profession and other things.
Fourth house
Fourth house represent  education.
Fifth House
Fifth house indicates intelligence, and higher education.
Sixth House
Six houses represent diseases but only for short term.
Eight House
Eighth house indicates longevity and death. This house represents long term diseases.
Tenth house  
The 10th house is the house of Karma, in every individual horoscope. The astrologer predict for profession of the native on the basis of the sign of tenth house, lord of 10th house and planets placed in this house. In fact 10th house signifies all careers related questions.
Twelfth House
12th house indicates Hospital and bed.
Planets Significator for Medical profession
Moon —    Drugs and herbs
Sun      —   Medicine
Mars —       Surgery
Jupiter –      Specialization
Mercury –   Specialization
Saturn   –    Symbolises all diseases
Rahu —       Imagination
Planetary Combination for Medical Profession |  Doctor in Horoscope
Planet Moon must be in the house of 6th, 8th and 12th.
Moon should be debilitated or in malefic Nakshatra or aspect by malefic Planets like Mars, Saturn Rahu etc.
If Moon is in the house of 10th and connected with sixth house .
If Sixth house or 6th lord makes relation with 10th house or its lord native becomes a doctor.
Sun should be in good position.
Sun and Moon or Jupiter and Mars in Kendra are also good combination for Medical / doctor.
Sun – Rahu, conjunction in the appropriate sign.
Malefic planet Saturn, Mars and Rahu Ketu  must be aspect on 10th house or 10th lord or both.
If 5th and 6th houses connected with each other, it gives good intelligence for diagnosis of diseases.
If Mars aspects or joins with 6th house or Lord and 10th house or 10th lord, native will be a surgeon.
Cancer the sign of healing and nursing rises on 10th house or Lagan or 10th Lord in Cancer sign.
Lagan or lagnesh, 6th house or 6th lord, 10th house or 10th lord and 12th house or Lord should connect with each other.
If 10th lord placed in the Aswani Nakshatra because Aswani is the lord of Medicine
Planets indicate your part of body
Sun: – Governs the vital fluid in the body, Heart, bone, right eye, constitution of the body etc
Moon: – Rules the stomach, ovaries, uterus, lymphatic's, sympathetic nervous system, eye  etc.
Mars: – Governs the red bone marrow, hemoglobin, red blood corpuscles, genitals, left ear, nose etc.
Mercury: – Respiratory diseases, Pulmonary system spinal cord, vocal cards, nervous disorders etc.
Jupiter: – Liver, adrenals, arterial calculation, fatty degeration of the muscles, tumors, cancer etc
Venus:- throat kidneys, gastronomical indiscretions Semen etc
Saturn: – Gall bladder, bone painful rheumatism, teeth obstruction etc
DOCTOR`S HOROSCOPE  

D1

CHART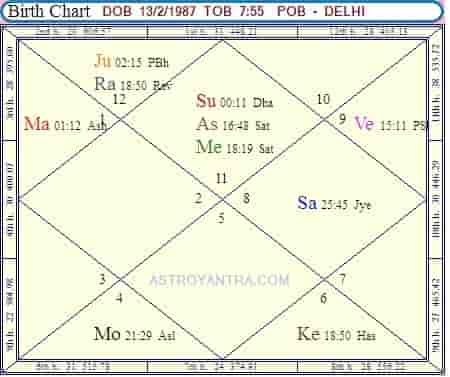 Example horoscope the native is an eminent Doctor.
Above given in the birth chart sixth Lord ( lord of diseases) Moon is in the  6th house in own sign and Saturn Nakshatra. Saturn is the lord of Ascendant (Self) and 12th house (house of hospital) is placed in 10th house (house of profession). This horoscope indicate  It is a very clear indication that the person profession is related with Medical field because lagan lord ( Saturn ) disease lord ( Moon) and profession House and Lord all are connected with each other.
10th lord Mars also aspect to 6th  house and lord Moon so it is clear that profession should be  related with Medical / doctor . Here Hospital lord Saturn is placed in the tenth house and  Rahu and Jupiter aspect to 10th house and Saturn also.
Thus there is a direct relation between the lords of 1st, 6th, 10th and 12th houses. Here is 10th lord Mars is in the Aswni Nakshata it is also prove that the combination has been given above are correct.
In the D9 Navamsa chart  10th lord of the d1 chart Mars aspect 6th lord of the d9 chart Sun and the 10th lord of the d9 chart Jupiter aspect to 6th lord Moon of  d1 chart it is via versa relation denote strong Medical profession combination in horoscope.
---